Sydney Helicopter Tours
Hop aboard a helicopter and see Sydney's best from the air.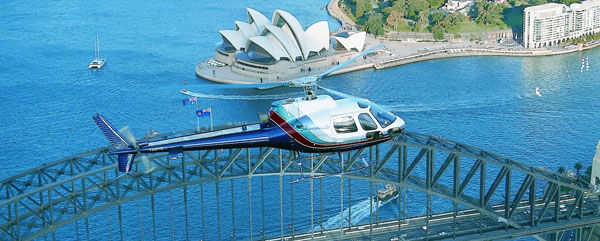 One of the most popular kinds of tours in Sydney for those who don't mind spending a bit of cash are the option to get airborne for a Sydney helicopter tour over the city, its harbour and its many famous highlights such as the Sydney Opera House and Harbour Bridge – both of which look even more spectacular than usual when viewed from above! With shorter scenic helicopter flights that range from a small sample of the views available to full-day tours that span distances as far as the Blue Mountains, the only limits are your spirit of adventure and the size of your wallet when looking to book a helicopter tour of Sydney. 
Tour options include:
Sydney Harbour Heli Flights
Sydney Heli Grand Tour
Sydney Twilight Heli Flight
Sydney's Greatest Sights Tour
Coastal Helicopter Rush
Sydney Harbour Exposure Flight
Blue Mountains Helicopter Tour
Aussie Bush and Wildlife Helicopter Tour
Book Sydney Helicopter Flights
See Sydney's best highlights from above.
Book Sydney Helicopter Flights online